The who's who in Buford Wedding Dress Shops…
The wedding dress is perhaps the most stunning and beautiful part of the wedding, right after the bride of course. They say the bride wears the dress, not the other way around and they are so right. But how do you find the perfect dress for you? The place to start is by choosing a good wedding dress shop, and there's nothing quite like Buford wedding dress shops. To help you on your marriage journey we've compiled a list of our favorite wedding dress shops in Buford.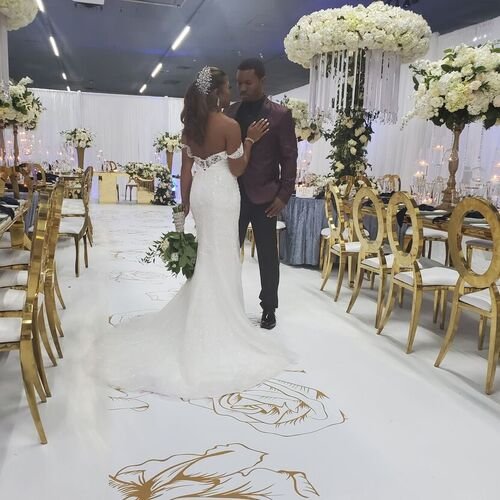 Affordable Bridal Inc. is at the top of our list because they provide a high-level customer service experience. This is an appointment-only shop, and they offer a personalized shopping experience and have a wide variety of dresses to choose from. They have well-trained stylists and aside from ordered dresses, they have over 400 sample sizes that come at a discounted price. 
As the name suggests, Affordable Bridal Inc. is rather affordable. Dresses will start at $1,000 and they have great payment plans.
Fashion Bride Studio is unique in that they have not only designer dresses, but they will also work with you to custom-make a dress. If you don't see something you like, then you have the option of designing your own dress. They offer several styles including ball gowns, boho, mermaid, and so many more. 
Their pricing is incredible. Most dresses fall around $2,500 and alterations are easy to have done.
Charme Bridal & Prom is one of the best Buford wedding dress shops when it comes to price. They have a wide selection of dresses, from designers like Maggie Sottero, Venus, and Justin Alexander. They offer petite and plus-size dresses. They provide complimentary shipping, steaming, and a dress bag for transport as well.
They are known for their discounts and sample sizes are actually sold at a very fair price. They provide one-on-one appointments and most dresses will fall around $2,500.
David's Bridal is well-known across the country and they happen to have a store near Buford. They offer a ton of selection when it comes to designers and sizes. If they don't have it in-store, it can be bought online in your size. They also offer alterations, jewelry, heels, and more. 
Pricing with David's Bridal varies across the board and depending on the dress. They do often have sales, but you should expect to pay around $3,000 for a dress here. 
Another great Buford wedding dress shop is Natalie's Bridal. They have high ratings and high-quality dresses. They have many gowns from designers such as Morilee, Demetrios, and Allure. They have sizes ranging from 0 to 28. They have hundreds of dresses to choose from and if it's not in their shop it's online.
With designer dresses come designer prices. This can range from $2,000 to $5,000.
Conclusion: Buford Wedding Dress Shops
Wedding dress shopping is fun and these shops are not only trendy but also provide great service. With a wide variety of styles to choose from and great prices, Buford wedding dress shops can't be beaten. If you're currently planning a wedding and looking to find a stunning gown, contact us and we can offer a few personal recommendations based on our past brides.