Wedding dress shopping is so much fun! Trying on dresses and adding sparkles, lace, glitter, or maybe a bow? The possibilities are endless. So where to start? With a million combinations you want to be sure to pick the best dress for you. We can help you there. Here are our best tips for finding the perfect wedding dress.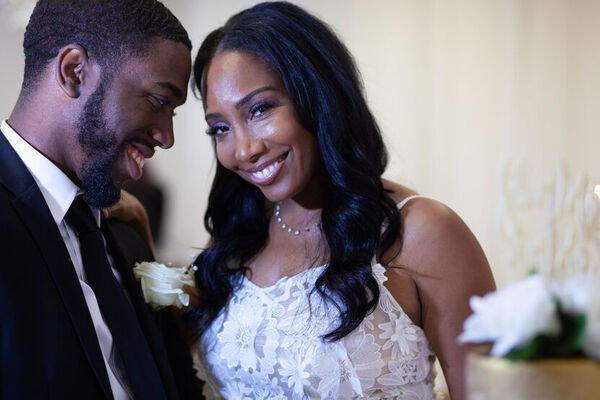 Check Your Style
Before shopping look through what clothes you have already. Are there puff sleeves? Maybe a tight skirt? Looking into your own closet can give you a sense of your style. You'll likely fall in love with a dress you're comfortable in. It's okay to try something daring and new. We even encourage it. After all, how many chances do you get to try on dozens of dresses?
But, there is something to say about finding your comfort zone. If you don't like the feel of lace on your skin, stay away from it. If you're not big on glam, tone down the sparkle. Your own closet will often tell you exactly what you want.
Find Your Color Palette
If you've already picked your theme, this part should be easy. You'll want your dress to fit your theme and a part of that is finding your color palette. There are far more shades of white than you'd think, not to mention pinks, blues, and even blacks. Pure white isn't for everyone and it's fun to experiment with colors.
Looking at your color palette for your theme can help determine what color scheme you'd like for your dress. If you're working with pastels, blush pinks, icy blues, or pearly whites are beautiful together. If you're going in a gothy direction, greys, blacks, deep purples and blues make great combinations. It may even be helpful to take paint samples to your dress appointment to compare colors.
Look Ahead
Look online before you go to your appointment. Look up stylists, designers, artists. Start to narrow down what you like and what you don't. Places like Pinterest and Instagram are great places to get ideas and save them. 
Take these inspirations to your appointment to help your attendant get a head start on what you'd like. This will make the appointment go a lot faster and a lot easier.
Don't Settle
Don't be afraid to try on a lot of dresses. It takes time to find your perfect match. You may feel a rush of excitement after trying on the first dress and that's amazing, but don't limit yourself to one. A lot of brides try on an average of ten dresses, but you can try on however many it takes. 
Don't settle for others' opinions either. It is your dress and your time to shine. It's okay to get outside opinions, but if you find the one dress for you don't let others drag you down. Hold your own and rock that dress.
Conclusion: Finding the Perfect Wedding Dress
Whether it's miles of lace or a ton of glitter, remember most of all that your wedding dress should be a reflection of you. Choose a dress that shows off your personality, style and most importantly is comfortable for your big day. Need help choosing a dress? We can help. Contact us today to learn how our past brides have found their perfect wedding dresses without breaking the bank.
Happy wedding dress hunting!